District-Wide Capital Project
- Updated November 2019
High School project underway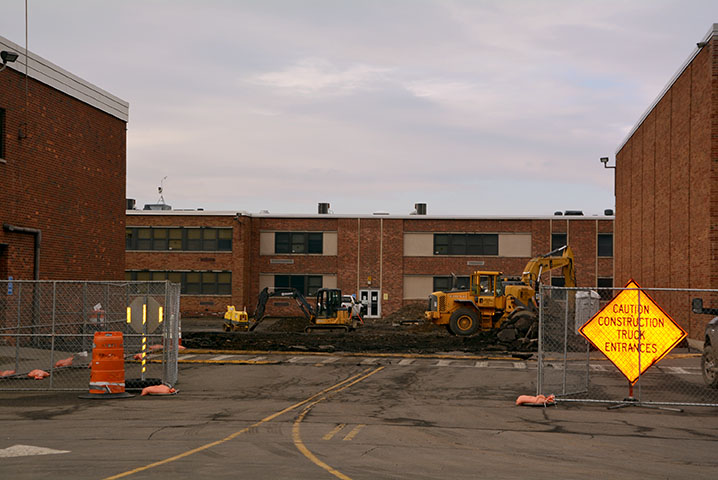 The Horseheads High School portion of the district-wide capital improvement project is underway as of November 2019, with bids awarded to 12 contractors in October. Fencing behind the school and near the pool has been built to keep construction areas separate from school traffic.
Site work for the new library has begun in the area known as "the quad." The new library will be adjacent to the pool and will connect to the north and south wings to create better student traffic flow. The current library will be converted to the new main office, counseling office, and nurse's office, creating a clear entrance to the school.
The current cafeteria will be closed for renovations as of December 1. A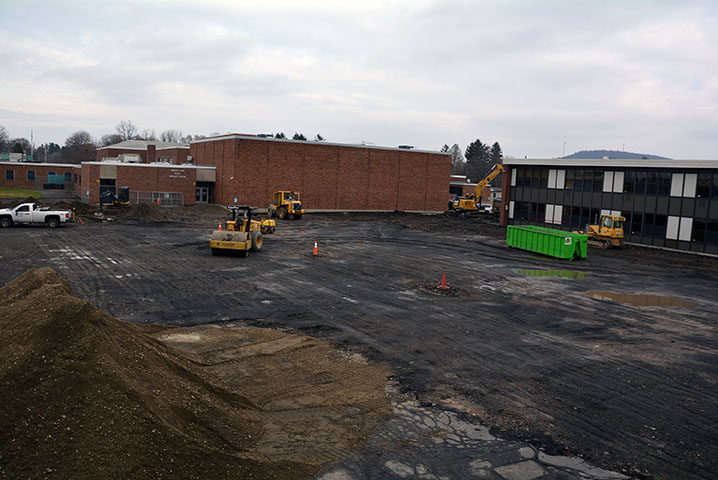 temporary cafeteria will be set up in the south gym, with kitchen facilities across the hall.
Site work has also begun on the new multi-purpose stadium behind the school. Contractors will do as much work there as they can before the ground freezes. Demolition will soon begin on the existing storage buildings behind the school. This area will become a new parking lot.
Interior south wing classrooms have been emptied so that renovations can begin. Teachers originally in those rooms have moved to other spaces in the school. These rooms will become new science classrooms. Temporary walls separate the construction area. Demolition and abatement in the interior south wing are slated to begin after the December break.
As classroom renovations are completed, construction will move to the next set of planned classroom renovations.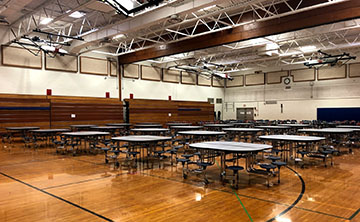 The district would like to note that all asbestos abatement is being done according to the strictest of standards and the law to protect safety. There will be regular air monitoring both inside and out.
Below are anticipated completion dates of the various parts of this phase of the project, but please note as is often the case in capital construction and especially in a project this large, delays may occur.
Library: Fall 2020
Science rooms: Fall 2020
Cafeteria: Fall 2020
Main Office: Winter 2021
Stadium: Fall 2021
Background
Horseheads 2030: Building Our Future Now
The Horseheads Central School District comprehensive capital project, approved by voters in October 2017, is underway. The project, known as "Horseheads 2030: Building Our Future Now," has been in the planning stages since 2016. The project includes several phases, with the first and second phase approved by the State Education Department and construction begun. The third phase, which includes extensive renovations at Horseheads High School, is in the design/bid phase. The final phases will begin when the design work for the High School phase is complete. Construction is expected to be completed in late 2022.
We will add links to presentations and videos from updates to the Board of Education by the architects and construction manager as soon as possible. The June 21, 2018 meeting reviews the entire project and includes information on all phases.
After voters approved the project, the district began planning and submitting plans for portions of the project to the New York State Education Department (SED), as is required by law. The project has been divided into several phases, and much of the current work focuses on improving safety.
Architect/Construction Manager Updates
November 21, 2019: Presentation Video
June 20, 2019: Presentation Video
January 17, 2019: Presentation Video
October 18, 2018: Presentation Video
June 21, 2018: Presentation Video
High School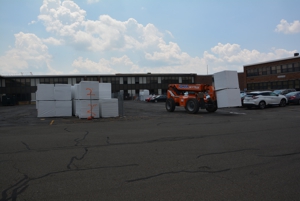 The major portion of the district-wide project involves the High School, with several classroom renovations, a new library, and several hallway connections to improve student traffic flow, as well as exterior improvements in the area of safety and security with a new main entrance, parking, and the start of a new multi-purpose stadium. Planning for this phase of the project began soon after voter approval, with several design/user groups meeting to discuss critical needs and preferences for the renovations.
The state approved the design plan for the High School phase in 2018. Bids were awarded in October 2019. Construction for the High School phase is expected to begin in late Fall 2019 and tentatively to be complete by 2021.
During the Summer of 2018, some areas of the roof were replaced on the South Wing.
Middle/Intermediate Complex
The project also includes work at the Middle/Intermediate complex, which is currently in the design phase. Work is expected to begin after SED approval, successful bid awards, and further planning - approximately Summer 2020. This portion of the project includes science, technology, and art classroom upgrades; cafeteria expansion; kitchen upgrades; some roofing; heating/ventilating upgrades; exterior lighting and electrical upgrades; and playground improvements on the Intermediate School side.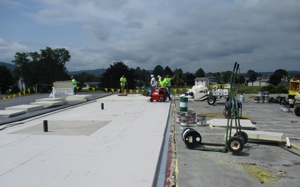 Portions of the roof at Big Flats have been replaced this summer.
Big Flats
Roof replacement at Big Flats began in Summer 2018 and is expected to be complete in 2019. Additional work has been completed, including heating/ventilating reinstallation and replacement, sidewalk repair, playground pavement work, as well as replacement/upgrades of electrical panels and drinking fountains. After this work is complete, exterior doors will be replaced and emergency lighting installed.
Future work includes entranceway improvements, traffic flow and parking lot improvements, and playground upgrades.
Center Street
Work completed in 2018 at Center Street included roof replacement, heating/ventilating unit upgrades, and replacement of ductwork and lighting in the cafeteria and gym. Sidewalks and playground pavement are being repaired, and new emergency lighting is being installed.
Future work includes boiler and heating/ventilating upgrades and playground and traffic flow improvements.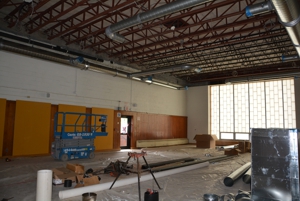 The cafeteria ceiling at Center Street is removed in preparation for new ductwork and new roof drains.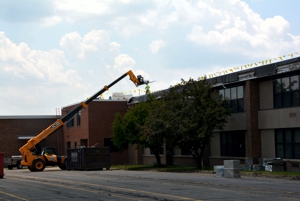 Many roofs on district buildings were at the end of their useful life. A new roof is being installed at Center Street (above), as well as portions of the High School South Wing (below), Big Flats, and Ridge Rd.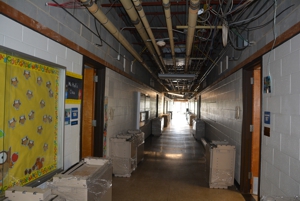 Gardner Road will have new heating & ventilation and ductwork. All corridor ceilings will be raised when reinstalled.
Gardner Road
During the Summer of 2018, Gardner Road saw the most extensive exterior work because it was in need of the most work. The parking lot was completely replaced to bring it to current standards and to improve safety and traffic flow. There are now separate lanes for buses and parent drop-off. New storm chamber systems and light poles have been installed, and sidewalks repaired.
Ceilings in the K wing, main office, and corridors have been removed to install new heating/ventilating ductwork and plumbing. Corridor ceilings will be raised to a more standard level when reinstalled.
Ceilings will not be complete when school begins because more work is to come, including technology improvements.
Future work includes new exterior doors, playground upgrades, main entrance improvements, more roofing, and technology improvements.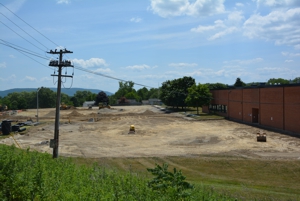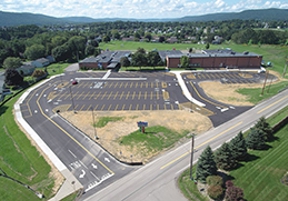 The parking lot at Gardner Road, which was at the end of its useful life, was completely replaced in Summer 2018 to create better traffic flow and a safer parking area for students, staff, and parents.
Ridge Road
The boiler at Ridge Road was original to the building and has been replaced with a high efficiency hot water boiler.
The playground equipment near the corner of Ridge and Wygant roads was being moved further from the road, and a new, vehicle-restraining safety fence was installed to increase safety.
Like our other elementary schools, Ridge Road will also see emergency lighting upgrades, playground pavement and sidewalk repair, and exterior door replacements.
Future work includes traffic flow improvements, more roofing, and main entrance improvements.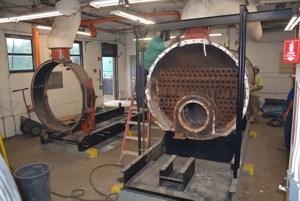 The steam boiler at Ridge Road, original to the building, was removed and replaced with a more efficient model in this first phase of the project.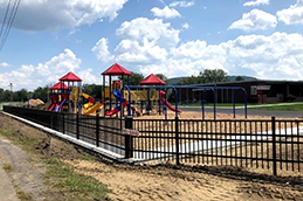 This portion of the playground was moved further from the road and a new, safer fend was installed.
District-Wide Technology Project
Technology upgrades in our elementary schools, similar to the work completed at the High School and Middle/Intermediate complex, made up the second portion of the capital project, and is nearing completion.
This work includes new data closets and network data cabling, network and wireless infrastructure upgrades, and security video surveillance improvements at the four elementary schools, and a new district-wide phone system. Construction will be taking place throughout the course of the year and is tentatively expected to be completed by fall 2019.
Transportation Department
At the Transportation Department, Summer 2018 work included lighting upgrades, electrical panel upgrades, and drainage repair. Future projects include heating/ventilating work, exterior improvements, overheard door upgrades, and traffic flow and parking improvements.
Questions? Email us at hcsdinfo@horseheadsdistrict.com.
Project History
On October 17, 2017, voters in the Horseheads Central School District approved a capital project to renovate and upgrade our schools, our transportation department, and our grounds. The $94.7 million project passed: 1350 yes, 589 no. The project seeks to improve our educational program and physical infrastructure so that we may provide the best education we can for our students. We're seeking to build on the excellence that is the Horseheads Central School District.
The project began in 2016 as 'Horseheads 2030' with a series of community meetings, staff discussions, and work with architects regarding our infrastructure, and an educational committee of representatives from across our district. The 2015 Building Condition Survey (BCS) identified a wide range of capital needs to strengthen our infrastructure, upgrade our classrooms and buildings, and in turn improve the education we offer our children.
The links at left describe the project and include fact sheets, frequently asked questions, the BCS, and a press release describing the October 17 vote. The links below are to the presentations and videos from the community and board meetings regarding the project. Questions? Email us at hcsdinfo@horseheadsdistrict.com.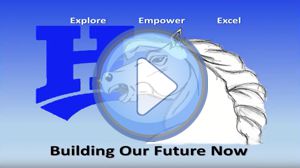 To view a video overview of the project, click the image above.
| | | |
| --- | --- | --- |
| January 25, 2018 | presentation (pdf) | video |
| October 2, 2017 | presentation (pdf) | video |
| August 24, 2017 | presentation (pdf) | video |
| June 22, 2017 | presentation (pdf) | video |
| May 30, 2017 | presentation (pdf) | video |
| April 26, 2017 | presentation (pdf) | video |
| March 27, 2017 | presentation (pdf) | video |
| March 16, 2017 | presentation (pdf) | video |
| February 28, 2017 | presentation (pdf) | video |
| December 6, 2016 | presentation (pdf) | video |