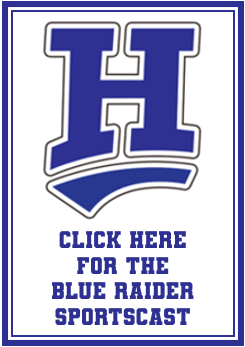 Interscholastic Athletic Programs
The district offers a full range of interscholastic sports. Programs for students in grades 7-12 normally require attendance at practice five or six days per week for 2 to 2.5 hours each practice. There is a selection process for teams that involve competition with other schools in our league and section.
Live stream our home athletic contests here.
Registering for teams and physicals
Our Athletic Department is now using FinalForms for registering students for athletic teams and sports physicals. If your child plans to participate in a sport this school year, you will need to create an account on FinalForms and register your child(ren) for a physical and the specific sport.
To log in to FinalForms to register your child for a sports physical, go to https://horseheads-ny.finalforms.com/. You will then create a parent/guardian account, confirm your registration through an email which will be sent to you once you create the account, then go back to the site to register each child. The site will then ask for the following required information:
Student name
Student email address - Please note: When setting up your account, the site asks for your student-athlete's email address. This must be your child's school email address.
Basic medical history and health information
Insurance company and policy number
Doctor, dentist, hospital preference and contact information
For instructions on how to set up your account and register your child(ren), click here.
When you complete the student registration, you will be able to see the open registrations. You can then select the sport or physical for registration.
Once you register your student(s), an email will be sent to your student(s) to sign required forms. This is why we require you to enter your student's school email address.
If you have questions, please contact the Athletic Office at 607-739-5601, x4254 or kgranger@horseheadsdistrict.com.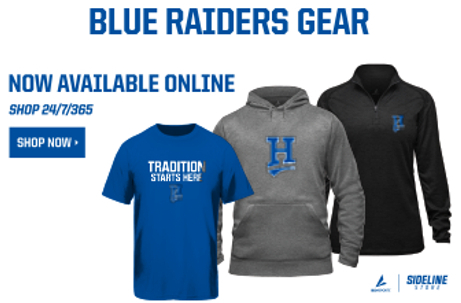 Click the image above for the Blue Raiders Online Store.
Click here for starting dates for the 2023-24 sports seasons.
Click here for the Athletic Code of Conduct.
Hall of Fame
We will be accepting nominations to the Blue Raider Athletic Hall of Fame through June 1. For more information and the nomination form, click here.
Winter 2023-24 Sports Registration
Varsity and Junior Varsity: October 13 to November 12
Modified: October 27 to November 26
Unified Bowling: December 5 to January 3
Winter 2023 season start dates:
Varsity and JV: November 13
Modified: November 27
Unified Bowling: January 4
Sign-Ups
Students will receive information about team sign-ups in their physical education classes. Sign-ups begin 30 days prior to the start of the sports season. The district uses FinalForms for registration for sports and sports physicals.
Students entering Grade 7 who wish to participate in a fall sport will receive information in their sixth-grade elementary physical education class in May. New students who enter during the summer and wish to participate in sports should call the Athletic Office and schedule a summer physical with the school medical provider. This physical will meet the requirements for the entire school year.
Click here for more information and for the sign-up link.
Please note: If your child is transferring from another school and participated in interscholastic sports in his or her previous school, please complete this form and bring it to the school when registering your child.
Physicals
We will hold school sports physicals in the summer each year. This enables all of our students interested in athletics to be prepared for each sport season for the full school year. A physical less than one year old at the beginning of the sport season is acceptable.
Student athletes who need a school sports physical should register online. For more information, click here.
To reach the High School Health Office, call 607-795-2512. During the summer, the High School Health Office is open every Wednesday 9am-noon for sports and working papers. To reach the Middle School Health Office, call 607-739-6357 x4.
Pre-Season Meetings
Each coach holds a preseason meeting before the start of the season. The coach will check medical eligibility forms provided by the Nurse's Office and allow only those students who are cleared by the nurse to begin practices. Coaches will provide practice schedules on the first day of practice. Coaches will also present expectations, goals, and objectives.
Fall Sports:
Varsity and Junior Varsity: Cheerleading (Varsity only), Cross Country, Football, Boys Golf, Boys and Girls Soccer, Girls Swimming, Girls Tennis, Girls Volleyball, Unified Soccer (grades 9-12)
7th & 8th Grade: Cheerleading, Cross Country (boys and girls), Football, Girls Volleyball, Girls Swimming, Boys and Girls Soccer, Golf
Winter Sports
Varsity and JV: Boys and Girls Basketball, Bowling, Indoor Track (Varsity), Boys Swimming, Boys and Girls Wrestling, Cheerleading (Varsity only), Unified Bowling (grades 9-12)
7th & 8th Grade: Boys Basketball, Boys Swimming, Wrestling, Girls Basketball, Cheerleading
Spring Sports:
Varsity and JV: Boys Baseball, Girls Golf (Varsity), Boys and Girls Lacrosse, Boys Tennis, Boys and Girls Track, Girls Flag Football, Girls Softball, Unified Basketball (grades 9-12)
Modified: Boys Baseball, Boys and Girls Lacrosse, Boys and Girls Outdoor Track, Girls Softball
Click here for more information on Unified Athletics.
For more information on our athletic program, please contact Charles DeTaeye, director of athletics and physical education, at (607) 739-5601, x4254, or or cdetaeye@horseheadsdistrict.com.
For general questions about our district, email hcsdinfo@horseheadsdistrict.com.