Building Our Future Now
The Horseheads Central School District comprehensive capital project, approved by voters in October 2017, is underway. The project includes several phases, with the first and second phase aproved by the State Education Department and construction begun. The third phase, which includes extensive renovations at Horseheads High School, is in the design phase. The final phases will begin when the design work for the High School phase is complete. Construction is expected to be completed in late 2021.
We will add links to presentations and videos from updates to the Board of Education by the architects and construction manager as soon as possible. The June 21 meeting reviews the entire project and includes information on all phases.
Architect/Construcation Manager Updates
June 21, 2018: Presentation Video
Project History
On October 17, 2017, voters in the Horseheads Central School District approved a capital project to renovate and upgrade our schools, our transportation department, and our grounds. The $94.7 million project passed: 1350 yes, 589 no. The project seeks to improve our educational program and physical infrastructure so that we may provide the best education we can for our students. We're seeking to build on the excellence that is the Horseheads Central School District.
The project began in 2016 as 'Horseheads 2030' with a series of community meetings, staff discussions, and work with architects regarding our infrastructure, and an educational committee of representatives from across our district. The 2015 Building Condition Survey (BCS) identified a wide range of capital needs to strengthen our infrastructure, upgrade our classrooms and buildings, and in turn improve the education we offer our children.
The links at left describe the project and include fact sheets, frequently asked questions, the BCS, and a press release describing the October 17 vote. The links below are to the presentations and videos from the community and board meetings regarding the project. Questions? Email us at hcsdinfo@horseheadsdistrict.com.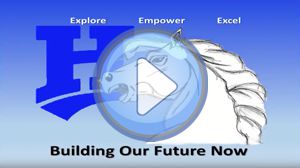 To view a video overview of the project, click the image above.
| | | |
| --- | --- | --- |
| January 25, 2018 | presentation (pdf) | video |
| October 2, 2017 | presentation (pdf) | video |
| August 24, 2017 | presentation (pdf) | video |
| June 22, 2017 | presentation (pdf) | video |
| May 30, 2017 | presentation (pdf) | video |
| April 26, 2017 | presentation (pdf) | video |
| March 27, 2017 | presentation (pdf) | video |
| March 16, 2017 | presentation (pdf) | video |
| February 28, 2017 | presentation (pdf) | video |
| December 6, 2016 | presentation (pdf) | video |