Interscholastic Athletic Programs
The district offers a full range of interscholastic sports. Programs for students in grades 7-12 normally require attendance at practice five or six days per week for 2 to 2.5 hours each practice. There is a selection process for teams that involve competition with other schools in our league and section.
For more information, on our athletic program, call 739-5601.
Follow us on Twitter
Our Varsity H Club is tweeting sports scores and more! The tweets will be posted below, and if you'd like to follow us on Twitter, click here.
Sign-Ups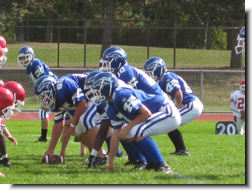 Students will receive information about team sign-ups in their physical education classes. Sign-ups and physicals for the fall season are in May/June. Sign-ups for the winter season are typically held in early October, and for the spring season in late January/February.
Students entering Grade 7 who wish to participate in a fall sport will receive information in their sixth-grade elementary physical education class in May. Seventh-graders who are new to the district and wish to participate in 7th & 8th Grade Cross Country (boys and girls) or 7th & 8th Grade Boys Football should have a physical in August.
Physicals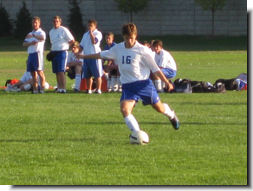 Each student who has signed up for a sport will be scheduled for a physical prior to the season. After the initial physical, a preseason health history review is sufficient for each subsequent sports season. This review is completed by the school nurse using the student's school medical records and past history health form.
Note: Students in grades 7-12 who plan to try out for a fall sport must get their physical in June, unless arrangements are made for a summer makeup through the athletic office. Those who have not been approved through the athletic office are responsible for getting a physical at their own expense. Physicals by a student's own physician must be completed before the start of the sports season in which the student is participating and will be valid for 12 months.
Pre-Season Meetings
Each coach holds a preseason meeting before the start of the season. The coach will check medical eligibility forms provided by the Nurse's Office and allow only those students who are cleared by the nurse to begin practices. Coaches will provide practice schedules on the first day of practice. Coaches will also present expectations, goals, and objectives.
Selective Classification Program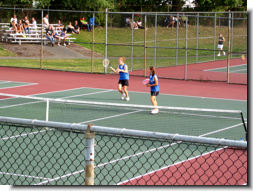 The district participates in the New York State Selective Classification Program. The program offers students who demonstrate advanced maturation and physical fitness a chance to compete on a JV or Varsity team.
Coach's recommendation and parental and physician approval are needed before a student may participate in the program. The student must also satisfactorily complete the physical fitness test components: shuttle run, sit-ups, standing long jump, 1.5 mile run, fixed arm hang, and 50-yard dash. All guidelines are established by the New York State Department of Education and are available in the Athletic Office.
Students take the physical fitness test once for each sport. After the fitness test is passed, the student does not have to re-qualify the following season in that sport. Criteria differ for each sport. Passing scores can be transferred. For more specific guidelines, contact the Athletic Office at 739-5601, x4254 or x4255.
If a student does not make the JV or Varsity team, he/she may move to the 7th & 8th grade team for that particular season.
Fall Sports:

Varsity and Junior Varsity: Boys Cross Country, Football, Golf, Soccer; Girls Cheerleading, Cross Country, Soccer, Swimming, Tennis, Volleyball (boys and girls)

7th & 8th Grade: Cross Country (boys and girls); Girls' Volleyball, Girls' Swimming, Boys' and Girls' Soccer, Co-Ed Golf:




Winter Sports

Varsity and JV: Boys Basketball, Bowling, Indoor Track (Varsity), Swimming, Wrestling; Girls: Basketball, Cheerleading, Indoor Track, Bowling

7th & 8th Grade: Boys Basketball, Swimming, Wrestling; Girls Basketball




Spring Sports:

Varsity and JV: Boys Baseball, Lacrosse, Tennis, Track; Girls Lacrosse, Softball, Track

Modified: Boys Baseball, Girls Softball
Questions, comments, or concerns? Contact the Athletic Office at 739-5601.